Timeline Assignment
Due Date: Monday, September 17, 2018
Submission Instructions: Bring printed essay to class and submit to digital timeline
Assignment Description:
Part I: Timeline Essay
A timeline is a well-known and respected method for showing a series of events in chronological order. But what is an event, exactly, and what does it mean to delve into the rich history of that event? This is an assignment about the crucial process of deepening one's understanding of the historical development of the book as we know it today. You will choose a central event or development related to this subject and write an 850-1,000-word essay on that event (about five paragraphs). In the essay, you will cover the event's most important details, its importance to the history of the book, and its complexities and nuances. Some potentially interesting topics that we've already discussed include Bi Sheng's invention of movable type, the development of quoc ngu, the rise of the codex, and the destruction of the Great Library at Alexandria. Alternatively, you might decide to investigate the earliest known use of italics, the origin of the fountain pen, the invention of rotogravure, or the first ebook format. For part 2 of this assignment, will add our events to a digital timeline but, for now, the focus is on the depth and sophistication of our historical investigations.
Assignment Requirements
Your work must be:
typed in 12 point Times New Roman font
double-spaced with no extra line between paragraphs
stapled
handed in on time
Your essay must have:
numbered pages
an original title
an unmistakable central event
a central argument articulated with a clear thesis statement
an introduction, at least three body paragraphs, and a conclusion
rich and well situated citations from:
three very reputable secondary sources on your topic and
a relevant primary source.1
proper footnotes and works cited for your citations. Use Chicago style citations (consult Rampolla if you have questions about how to do this, or make an appointment with me if you have additional questions).
Questions to ask about your sources
What can this source tell me?
Is the source primary or secondary?
When was the source published?
Can I trust this source (especially for Internet sources)
Does the author provide sufficient support for their thesis?
What is the author's viewpoint and background?
How does the source compare with others I have consulted?2
Part II: Submit to Digital Timeline
In class on the day the timeline essay is due, you will submit a digital timeline entry. This entry will include a specific date for your essay and other basic timeline info. Finally, you will include a link to an image for your timeline entry. To do this, we will use Google Drive and a Google Form.
How To Find Creative Commons Media:
The simplest way to do this part part of the assignment is to try finding images on Wikimedia Commons. That said, this site won't have much for some of your topics. This Harvard Library Guide has some good suggestions, including the museum and library digital collections.
How To Save Essay to Google Drive
New > Google Docs
Title, text, formatting, author name
File > Publish to the web > Publish
Copy link text and proceed to the Google form
---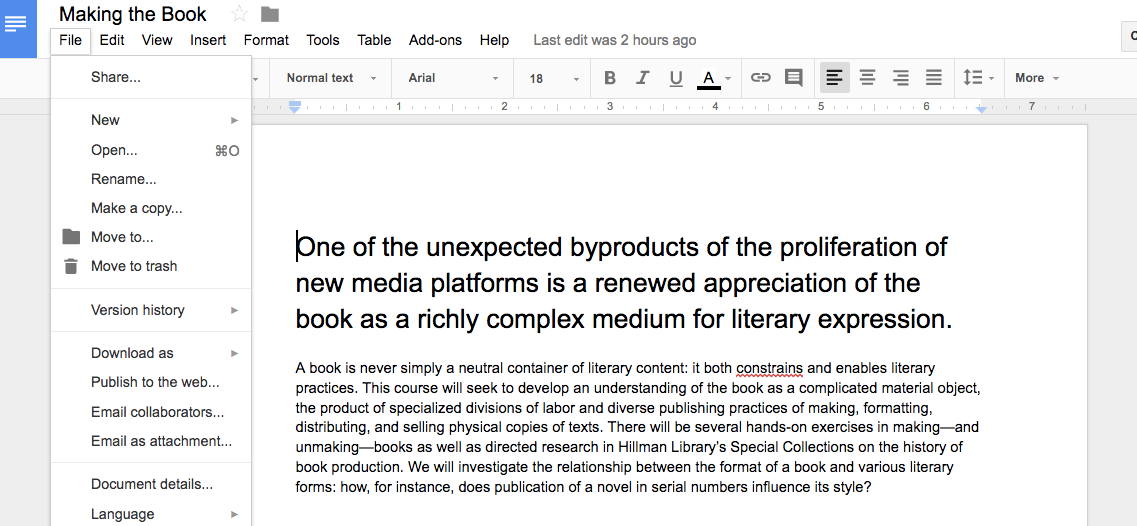 Click to view large screenshot
---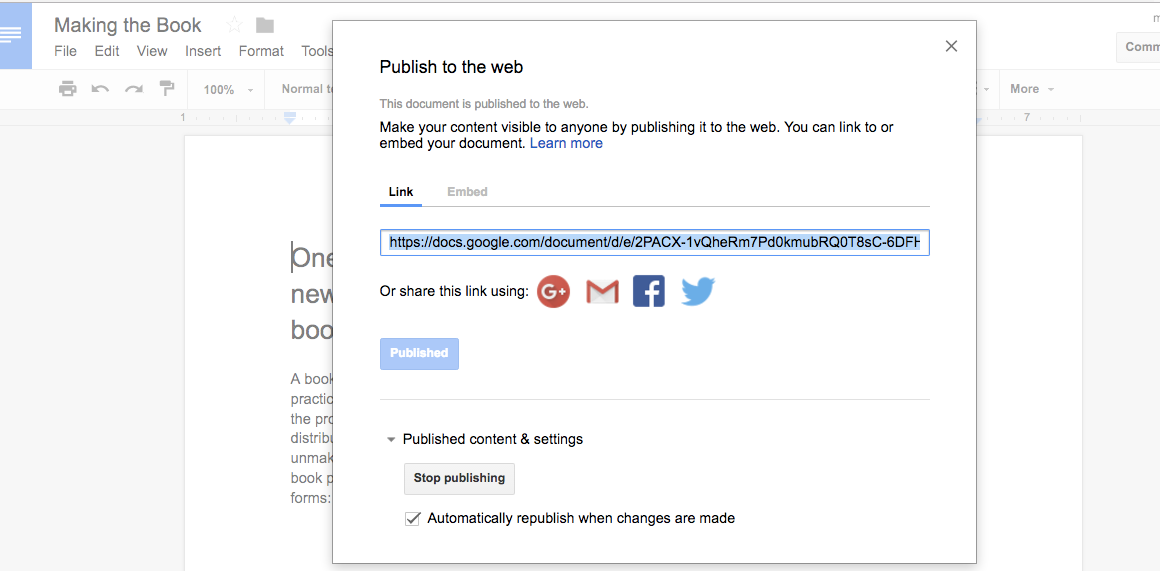 Click to view large screenshot
---
How to Use the Google Form to Include Timeline Details
Click on the linked text to navigate to the Google Form
Fill out as many fields as you can (especially date, headline, text, and the link to your full essay)
Add a link to your Creative Commons media
Submit the form
Check the timeline URL to see if your event is there
---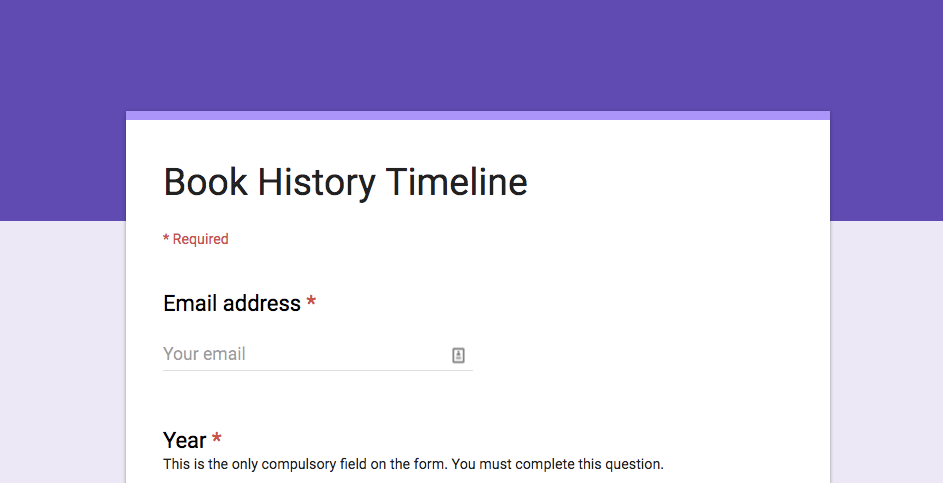 Click to view large screenshot
---
Grading Rubric
I will use the course's primary descriptive, non-numerical rubric for this assignment. It includes the following criteria:
| Item | Description |
| --- | --- |
| Assignment Process: | Evaluates whether students have followed directions properly. All materials are turned in on time and in the right place. Assignment directions are followed. Required components are all present and submitted on time. |
| Attention to Detail in Writing: | Language shows thought, precision, and control in word choice. Uses forms of grammar, punctuation, capitalization, spelling, and syntax that are appropriate for published work. Demonstrates careful attention to proofreading. Uses key words consistently throughout the paper without changing or confusing meanings. Paper is written concisely. Correctly consistently cites external sources using Chicago style format. |
| Argument and Thesis Statement: | Demonstrates clear purpose, sophistication and originality; makes clear, sufficiently specific, and well-qualified claim about the significance of your central event. |
| Argument Structure: | Sequence of material supports thesis and purpose; progression of thought from sentence to sentence and paragraph to paragraph is smooth and controlled; use of meaningful transitions and the logical movement from idea to idea strengthen this progression. Includes a well-constructed introduction, body, and conclusion. |
| Effectiveness of Support and Discussion: | Evidence and examples are specific and relevant, and explanations are given that show how each piece of evidence supports the essay's central claim; inserts source material in effective ways; demonstrates an ability to integrate sources using signal phrases and analysis; does NOT let quotations "speak for themselves." |
---
Footnotes
Using Wikipedia is allowed, but you shouldn't cite it, and it doesn't count as one of your sources
See Rampola, Mary Lynn. A Pocket Guide to Writing in History. New York: Bedford/St. Martin's, 2015